Current station is an Elecraft K Line of K3, P3, SP3, KPA500, KAT500, Expert Amps 1.3K-FA.
Keys include:
Begali HST sideswiper
Begali Graciella paddle
Begali Stealth limited edition paddle
Navy Flameproof straight key
Vibroplex Original bug
LTA sideswiper
West Mountain Radio CW Touch Keyer
garden variety straight key
homebrew hacksaw blade sideswiper
I will be using one or more of these on a QSO with you...
Antennas:
JK Antenna 30-40
JK Antenna Mid Tri 20-15-10
JK Antenna WARC 12-17
Comet GP-9 for 2M
sloper for 80M
Tower is an 80 foot Valmont Microflect, painted with a direct-to-metal acrylic to match the house. After all, you contest better when your tower matches your house, right ?
Most recent addition to the Shack is a weather station - because we Hams love to talk about the weather at our QTH ! Davis Vantage Pro on the roof, with a 20 foot mast for the anemometer: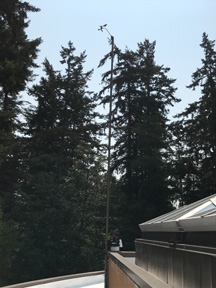 August 2017
I also operate remote using the Remote Ham Radio service. I will always indicate the location from which I am transmitting, if a QTH is requested or required for an exchange.